It's been a while since I did a Mama's Kitchen and I figured I would get back to basics. I grew up eating pasta every night so I know many, many ways to make it. When my mom was in a rush and didn't have a lot of time to prepare dinner she would throw together Spaghetti Aglio e Olio, or Spaghetti with Garlic & Oil. Even though that was her "go to" pasta it was one of my favorites. The flavors are so pure and simple and it's the ultimate home-cooked comfort food. Now that I cook for myself, Spaghetti Aglio e Olio is my "go to". It's really simple to make so regardless of your cooking skills, you should be able to handle this.
The recipe and a "how to" video on how to eat spaghetti after the jump . . .

Ingredients:
1 Pound of Spaghetti
4 Large Cloves of Garlic
1/4 cup of Olive Oil
Your favorite grated cheese to sprinkle on pasta
Instructions:
1. Fill a big pot 3/4 of the way with cold water and bring to a boil.
2. Peel garlic and cut each clove in thirds.
3. In a small pan, heat the olive oil. Add the garlic pieces and cook until the garlic has a light golden color. Do not overcook the garlic! It cooks really fast!! When the garlic is golden remove the pan from the heat and set aside.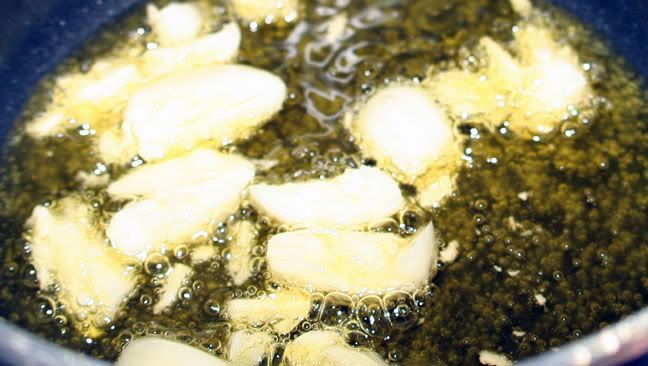 4. When the water comes to a boil add the spaghetti. Do not break the spaghetti. They say pasta should be cooked in water as salty as the Mediterranean so go ahead and add a healthy dose of salt. Stir continuously. Cook until the pasta is al dente.
5. Drain the pasta and put the pasta back into the pot.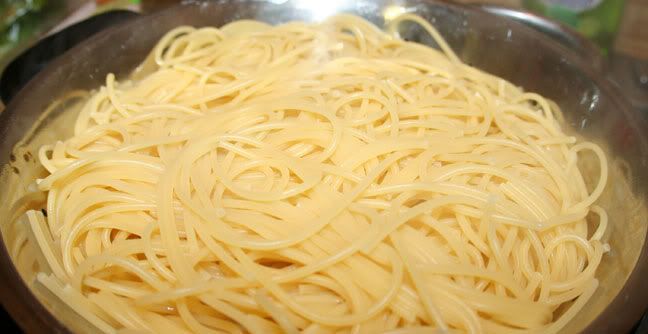 6. Add the garlic & oil and combine.
7. Serve immediately and sprinkle your favorite grated cheese on top.
Buon Appetito!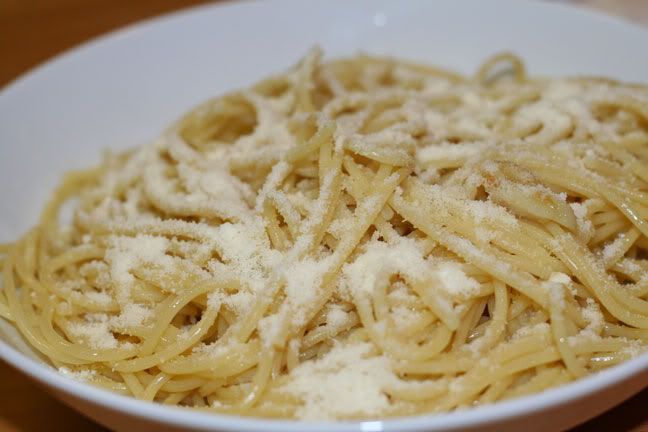 Helpful Hints for Cooking Pasta . . .
Do Not Add Oil To The Water – Lots of people do this so the pasta won't stick. This is called cheating. To prevent the pasta from sticking do as the Italians and keep stirring the pasta while it's cooking. If you walk away and let it sit it will be a giant gross lump.
Knowing When The Pasta Is Ready – Please do not throw the pasta at the ceiling, the wall or your friend. The only way to know when the pasta is ready is to taste it. Pick one strand out of the water and bite into it. Look at the piece in your hand. If it's mostly white inside and a bit on the crunchy side it's undercooked. It's al dente when there's the tiniest trace of white inside and the pasta still has some bounce when you bit into it. Do not cook the pasta until it's soft because it's overcooked then and therefore gross.
Knowing How To Eat Spaghetti – While eating spaghetti "Lady & The Tramp-style" is cute sometimes, there's a misconception that eating spaghetti is really hard. It's actually quite simple and I've made a little "how to" video so you can get your spaghetti twirl on . . .