One of the foundations of good Italian cooking is a solid tomato sauce. The sauce can be perfect on it's own with some pasta, or can be built upon to make more complex sauces. Growing up my "Nonna" (grandmother) would grow her own tomatoes and basil and really make the sauce from scratch. I don't have much of a green thumb so I buy tomato puree but my recipe is loosely based on my Nonna's. Today I'm going to show you how to make a simple, tasty tomato sauce and my favorite thing, ravioli. The ravioli are only half-homemade . . . I didn't make the pasta and used wonton wraps instead because they are a great substitute for homemade pasta when you're short on time but not short on flavor.
The recipe, instructions and photos after the jump . . .



Tomato Sauce Ingredients:
1/4 cup Extra Virgin Olive Oil
1 Large Spanish onion – finely chopped
3 cloves of garlic – minced in a garlic press
5 – 10 Basil Leaves
1 Carrot or a handful of precut carrots – finely chopped
1 Container of Tomato Puree (I prefer Pomi. Please be sure to get something with just tomatoes. Don't buy something already flavored with basil, etc. You want pure tomatoes – you are going to add the flavor!)
Sugar, Salt & Pepper
Instructions:
1. Bring a large pot of water to boil. (This is for the pasta not the sauce but this is always the first step. You want your water ready & waiting for you not the other way around).
2. In a large sauce pot, heat the extra virgin olive oil over medium heat. When the oil is hot, add the onions. Saute the onions until golden and transparent about 5 minutes.
3. When the onions are golden, add the carrots and garlic. Saute until golden, about 3 minutes.
4. Add tomato puree and stir. Season with basil, salt, pepper and a dash of sugar (to taste). Stir everything and bring to a boil.
5. When the sauce comes to a boil (not very long) bring the heat down to medium and simmer for 20 minutes. Stir frequently.
6. Makes enough for 4 people. If you have extra this freezes well too.

That's it! I swear! So easy, right?? Here are some tips or clarifications . . .
Carrots in Tomato Sauce? Yes, I know it sounds weird but makes perfect sense. Tomato sauce is highly acidic. By adding carrots, you're adding a natural sweetener to balance out the acidity. You can also add more sugar for more sweetness – it all depends on what you like.
Keep It Covered! If you've ever cooked tomato sauce you know that is has a low boiling point and when you lift the cover to stir there are sauce bubbles flying everywhere. To prevent this from happening, each time you go to stir the pot, turn off the heat (this works better on gas), or move to an unused burner (if you have electric), then lift the lid and stir. No mess!
Great for Freezing! Freeze the sauce and ravioli separately and you have an instant delicious dinner for another night. I store left over sauce in an ice tray and it's a perfect size for the baby.
Ravioli Ingredients:
1 Package Wonton Wraps
1 pound container of ricotta cheese
1/2 pound of frozen chopped spinach
2 cloves of garlic – minced with a garlic press
1/4 cup of grated parmesan cheese
Salt & Pepper


Filling Instructions:
1. Defrost the spinach in the microwave. When heated squeeze the water out of it and drain. (I've found the easiest way to do this is to put a similar size clean plate on top of the plate of spinach and press down and tilt on the side – the water will drip out). After you've drained the spinach add to a bowl.
2. Add the remaining ingredients to the bowl and stir gently. Ricotta is really fragile so please don't beat the hell out of it.
That's it. You're ready for the next step or you can do this in advance and refrigerate.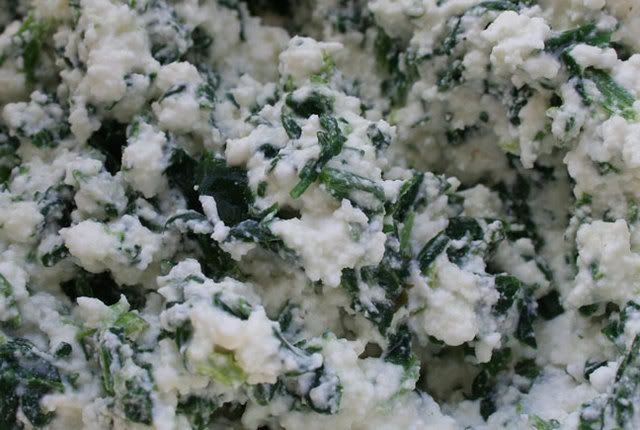 Assembling The Ravioli:


You'll need some tools: Fork, Brush, Small Bowl of Water and Teaspoon. If you don't have a brush don't worry, you can use your finger.
1. Get 2 wonton wraps and lay them side by side on a covered surface. Make sure they are facing the same way.
2. Place a small spoon of ricotta filling in the center of 1 of the wonton wraps:


3. Lightly dip the brush (or your finger) in water and brush a bit of water along all four edges of the wonton wrap:


4. Place the other wonton wrap over the wrap with the ricotta on it:


5. Press down along the edges to seal. I like to start at the top, work my way along the sides and then seal the bottom: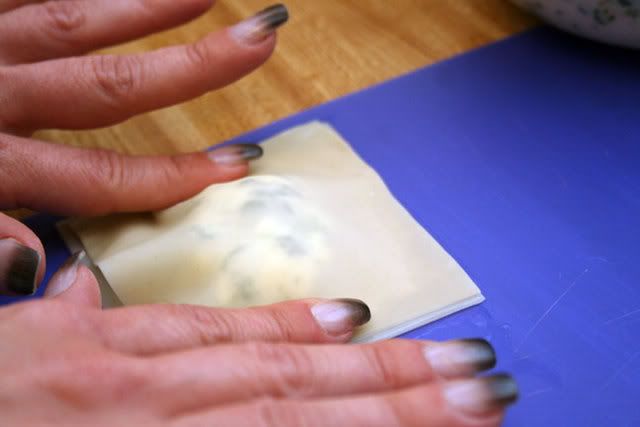 6. Take the fork and press all along the edges to seal the wonton wraps together:


7. As you finish each ravioli, set aside on a tray or plate covered with parchment paper. If you don't have parchment paper that's fine you can use anything else just sprinkle some flour on the surface so the ravioli don't stick.


Remember that pot of water you brought to a boil a while ago? It should be boiling now! If it is, add the ravioli, one at a time, and some salt. Stir gently. No matter how many times I make ravioli 1 or 2 always break so please be gentle. If you don't want to make them all at once then freeze the ravioli (on a tray so they don't freeze stuck together) overnight. Once frozen, you can transfer the ravioli to a ziplock. The recipe makes enough for about 4-5 people.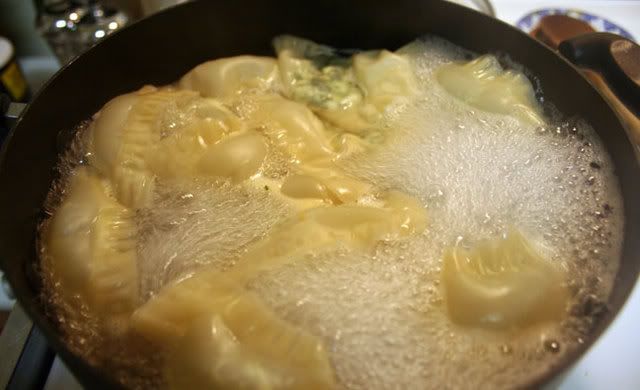 Fresh pasta only takes 3-5 minutes to cook so please don't overcook or they will be mush. Normally when I make pasta I strain in a collander but with fragile ravioli I spoon them out with a slotted spoon individually.

Add sauce and voila, you're done!


Buon Appetito!