Growing up I ate pasta every night so I know about a million ways to make pasta. It also happens to be the best food ever. One of my very favorites is spaghetti with homemade pesto. My mom wasn't into the pesto so it was a special treat I'd have when I went to Nonna & Nonno's house. I'd get there in the afternoon and Nonna & Nonno would be sitting at the kitchen table with piles of basil and they would add ingredients to the chopper and presto, I had pesto! Haha. My grandmother used the fresh basil that she grew in her garden. I, unfortunately, did not inherit my Nonna's green thumb so I buy my basil, but add a few ingredients and you'll have a delicious meal. I only grew up eating pasta with pesto but in my adult life I've experimented and pesto is amazing as a sandwich spread or on pizza so this recipe can take you wherever you want it to.

Recipe, Tips and Pics after the jump . . .
Ingredients:
4 ounces of Basil – taken off the stem, washed and patted dry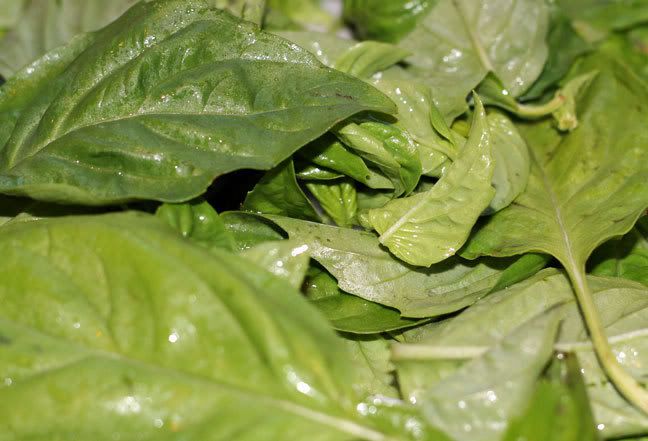 2 Cloves of Garlic – minced


Extra Virgin Olive Oil
Grated Italian Cheese (use your what you prefer, cheeses like Pecorino Romano or Parmigiano-Reggiano)
Salt & Pepper
1 lb of Spaghetti
Butter
*Many people make pesto with Pine Nuts.  Though delicious, I did not grow up eating it this way so I didn't include it in my recipe but please feel free to add toasted pine nuts in the blender and on top of your pasta.
Serves 4
How To Make Pesto:
1. Take a bunch of fresh basil, minced garlic, a spoonful of cheese, salt and pepper and add it to your blender or chopper. Blend everything together in the chopper/blender until it forms a paste. DO NOT USE ALL of the ingredients. Making pesto is different each time and also depends on your personal taste. So, you'll have to taste it as you go along and add more cheese, garlic, olive oil, etc. until it tastes the way you want it to. I also err on the side of putting less because you can always add more, but you can't take out too much of something.

I like to use my mom's old blender which she received at her wedding shower in the early 1970s. Still works like a charm and looks cool too. And, it's sooo futuristic . . .


2. While you're making the pesto put a big pot of water on to boil. When the pesto is ready (and if the water is boiling) add pasta. Add salt and stir frequently. When the pasta is ready, drain in a collander and put back in the pot.


**I always prefer spaghetti with Pesto. I leave the chunkier pastas like penne, rigatoni, farfalle for heartier, chunkier sauces.
**I go over knowing when the pasta is al dente, aka "ready" in a previous post.
3. Add a few scoops of butter to the pasta and all the pesto and stir. Serve immediately.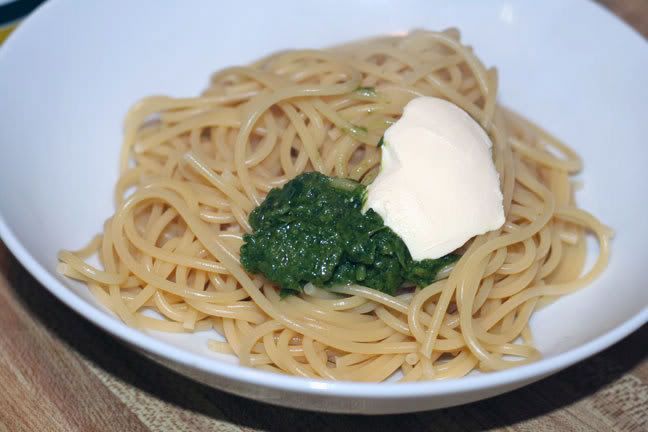 Buon Appetito!