I'm not from the South, and the closest thing to southern cooking I grew up eating was KFC. I try not to dig on the fast food but I still get yearnings for the Colonel's mysterious combination of 11 herbs and spices. When I get those cravings, I cook up my own version of southern comfort: fried chicken, mac & cheese and green bean salad. The crispiness of the chicken, combined with the creaminess of the mac & cheese is heavenly. Finish it off with some crisp green beans and juicy tomatoes and you're living the good life. The recipes for all 3 dishes and instructional pics after the jump!

Old Fashioned Macaroni & Cheese
**This recipe really is "old fashioned" – my aunt learned this recipe in her home economics class in high school back in the early 70s**
Ingredients:
3/4 lb Elbow Macaroni
2 cups grated cheddar cheese
1/4 cup butter
2 cups milk
1/4 cup flour
1/4 tsp salt
1/8 tsp cayenne pepper
1. Pre-heat oven to 375.
2. Fill a large pot of water with water and bring to a boil. Add pasta and salt and cook about 6 minutes. Stir frequently. When the pasta is al dente drain and set aside. (It's better to under cook here since the pasta will be baked later).
3. While you're bringing the water to a boil, in a separate small pot melt the butter. Remove from heat, add flour gradually and stir with a whisk. When combined slowly add milk, salt and cayenne pepper. Put back on heat and stir continuously with whisk. Bring to a boil for 1 minute. This mixture will have become thicker and would coat the back of a spoon.

4. Combine the white sauce with the pasta.

5. Spray your baking pan with Pam. Start layering macaroni and then cheese.


Repeat until you've used all the ingredients but you always want to end up with cheese as the top layer. Cover with foil.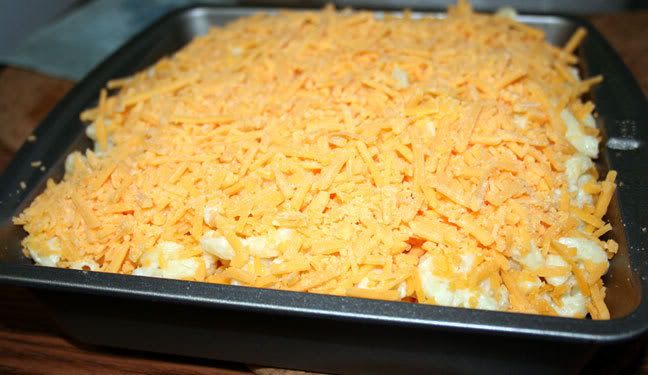 6. Bake for 15-20 minutes or until cheese is bubbling. Remove foil. Bake for another 5-10 minutes uncovered. Remove from oven and let cool.
7. Let it sit for a minute before cutting.
Southern Fried Chicken
I love Fried Chicken on the bone but sometimes if I just have breast tenders I use them instead. This recipe will work with whatever you choose.
Ingredients:
10 Chicken Breast Tenders
2 eggs
1 cup of buttermilk
Vegetable Oil or Crisco
Breading Ingredients:
1 cup of flour
1 tsp paprika
2 tsps garlic salt
2 tsps onion powder
1 tsp dried oregano
1 tsp dried thyme
1 tsp dried sage
1 tsp crushed rosemary
1 tsp parsley
1 tsp salt
1 tsp cayenne pepper
1. Combine all of the breading ingredients in a bowl and combine. Set aside.

2. Combine the eggs and buttermilk in a bowl and combine. Set aside.
3. Pat the chicken dry so the coating with adhere to it. Season on both sides with salt and pepper.

4. Dip the chicken in the egg/buttermilk mixture and evenly coat. Transfer to flour bowl and evenly coat.


Repeat. Yes, this is double dipped fried chicken – twice the yumminess.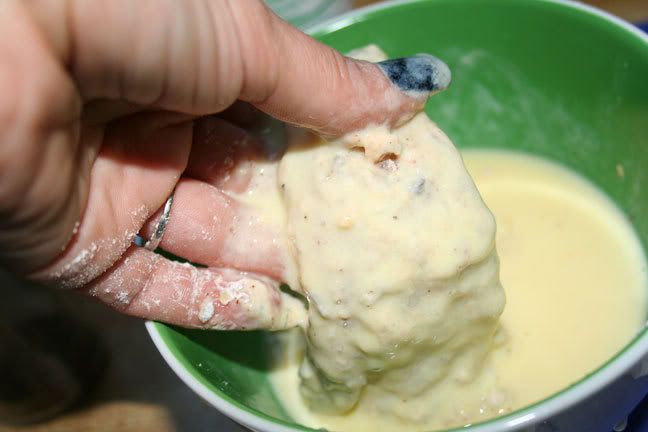 5. Once each piece is double dipped, set aside.

6. Time to fry. You want the frying pan to be about half-way filled with Oil or Crisco – we're going for a nice deep fry. If you're using Crisco, melt it in a frying pan. If you're using vegetable oil, heat the oil. When the oil is hot add the chicken.


Fry on each side for until the chicken is cooked through and has a nice golden outer color. Cooking time will vary if cooking on or off the bone.

7. When the chicken is ready, set aside on a plate lined with paper towels to absorb any extra oil. Eat immediately!
Green Bean Salad
Ingredients:
8 oz Green Beans
2 Tomatoes
Drizzle Extra Virgin Olive Oil
1 Lemon – squeezed
Salt & Pepper
1. Clean green beans and trim off both ends.
2. Bring pot of water to a boil. Add grean beans. Boil for 3-4 minutes. Remove from water and add to a bowl cold water for 1 minute. Strain the green beans and let them cool.
3. Clean the tomatoes and dice them.
4. Combine the green beans, tomatoes, olive oil, lemon and salt and pepper.
That's it! I hope this meal brings you as much comfort as it brings me.


Buon Appetito!