Today I'm going over some basic "go-to" recipes that you can build upon or just have on their own. My "go-to" recipes are dishes that I make when I'm short on time, but want something fresh and delicious. First up, fresh tomato and mushroom sauce, which is basically just building upon the garlic & oil recipe we started out with a few weeks ago. I rarely eat pasta on its own and I always like to end my meal with salad because the fresh crisp vegetables are always a nice way to finish things off. I'll share with you my "go-to" salad which I make out of ingredients I always have in the fridge.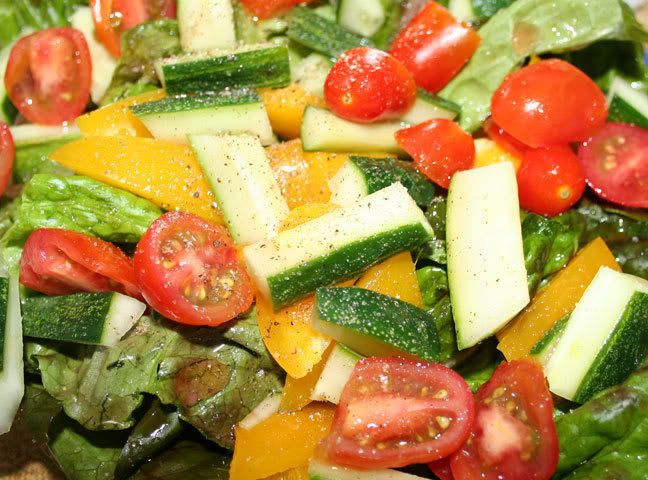 Recipe, tips and info after the jump . . .

Fresh Tomato & Mushroom Sauce

This sauce is made by combining 2 recipes: sautéed mushrooms and stewed tomato sauce. You can also have each recipe on it's own. The sautéed mushrooms are one of my favorite side dishes, especially with chicken or beef. The stewed tomato sauce is delicious on it's own and is also a "go-to" in its own right. I usually pair it with spaghetti.
Sautéed Mushrooms
Ingredients
1 Pack of Crimini Mushrooms – Sliced
2 Cloves of Garlic – Minced
Extra Virgin Olive Oil
Salt & Pepper
1. Drizzle enough olive oil in large sauté pan to evenly coat the bottom with a thin layer of olive oil. Heat over medium heat.
2. When the oil is hot, add minced garlic and stir around for about 20 seconds – wait until you smell the garlic. Add the sliced mushrooms and stir gently – evenly coating the mushrooms with the olive oil and garlic.
3. Raise the heat to high and sauté the mushrooms for about 5 minutes or until they are soft and have a bit of carmelization. Season with salt & pepper.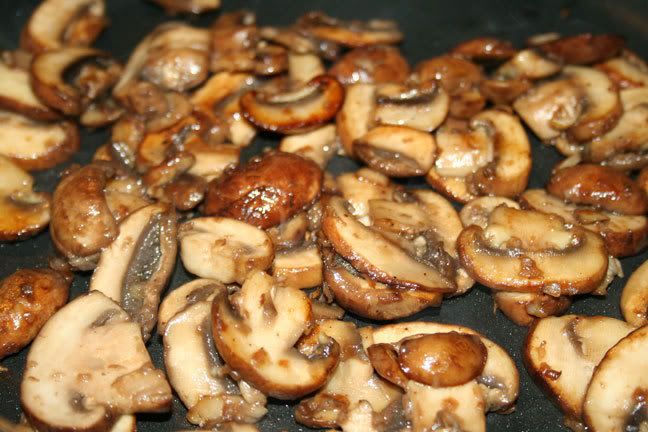 *If you have fresh herbs feel free to throw them in. Rosemary, thyme, sage, oregano or basil would all work nicely.
**If you marinate the mushrooms in terriyaki sauce with a dash of soy sauce for 1/2 hour that's a nice variation as a side dish (but not for the pasta sauce).
Stewed Tomato Sauce
Ingredients:
3/4 pound Grape tomatoes – cut in thirds
2 Large Cloves of Garlic – cut in thick slices
Extra Virgin Olive Oil
Basil
2 tsp Sugar
Salt & Pepper
1. Drizzle enough olive oil in a medium-sized pot to evenly coat the bottom with a thin layer. Heat the oil. When the oil is hot add the sliced garlic and sauté until golden and fragrant.
2. Add the tomatoes, sugar, basil and salt and pepper. (I didn't have basil when I made this but I had fresh rosemary and thyme and used that instead. Feel free to improvise with fresh herbs. They're yummy!). Stir. Simmer for about 10-12 minutes or until tomatoes are cooked through. While the sauce is cooking, taste it, and add sugar, salt and pepper to taste, if needed.
*I love this sauce on its own with spaghetti. If you make it on it's own use 1lb of Grape tomatoes.
One of my favorite types on pasta is ravioli. A few weeks back I made spinach and ricotta ravioli but I haven't had a chance to make one kind that I love – mushroom ravioli! (When I figure it out I'll share!) When I'm in a rush I'm known to buy pre-made ravioli. Trader Joe's has a nice selection and I like the ones pictured below. One pack serves 2.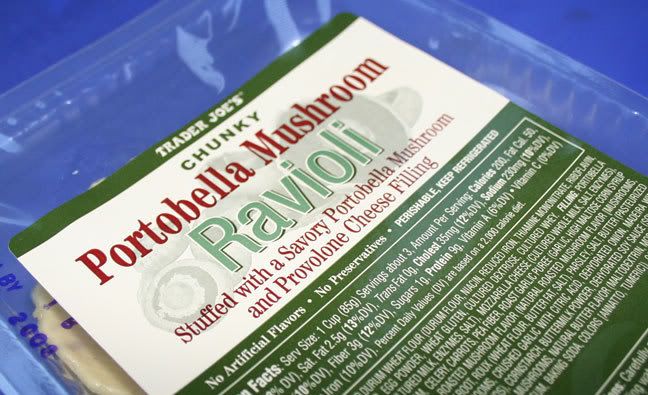 While I'm making the sauce I put a big pot of water on to boil. If it boils before the sauce is done I turn the heat off. When I need it, the water will be hot. Just bring it back up to a boil before you add your pasta. When the water is boiling, prepare the ravioli according to the instructions on the package. If they're not frozen they should only take about 5 minutes to cook. Individually strain the ravioli and place in your plate. Add sauce on top. Eat immediately!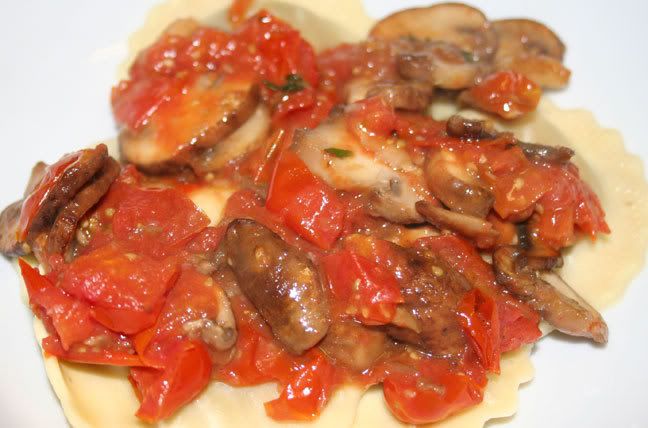 Garden Salad
Ingredients
Lettuce (I like red leaf)
Pepper (yellow, red or orange) – chopped
Tomato (I like grape or plum)
Cucumber – de-seeded and chopped
1. Wash and cut ingredients and put them in a bowl.
Salad Dressing
Extra Virgin Olive Oil
Red Wine Vinegar or Balsamic Vinegar or Rice Wine Vinegar
Salt & Pepper
This is the most basic salad dressing. Most people do a 2:1 olive oil to vinegar ratio. I do the opposite because I like my dressing tangy and I guess you could say that's my lil' secret because people always ask me what's in my dressing. Just drizzle olive oil around the edge of the bowl (not on the lettuce and veggies). After, drizzle twice as much vinegar around the edge of the bowl. Add salt & pepper to taste and toss. There's a big misconception about how much dressing is needed on salad. You need less than you think – you just want to coat the lettuce leaves not make them wilted. You can always add more but can't take away. That's it!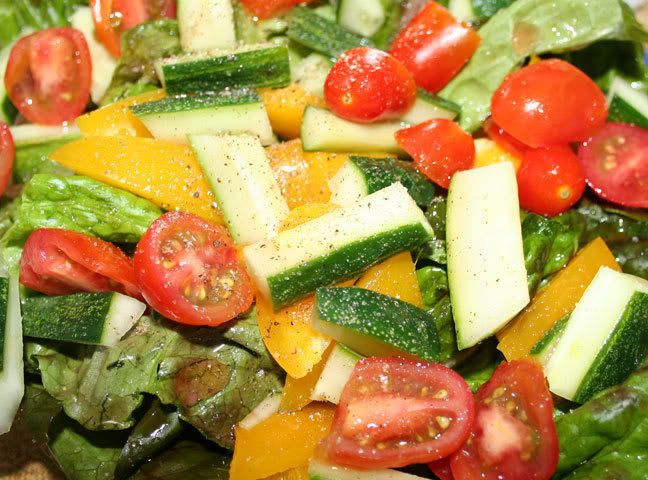 Buon Appetito!