I love cheesecake. Not any cheesecake – NY cheesecake. My dad doesn't get how I don't dig on Italian cheesecake, but for me, it's all about the cheese you use. Cheesecake, at least the kind I like, is made from creamy Philly cream cheese not ricotta. Don't get me wrong, I love ricotta, but I prefer it in cannoli or stuffed shells. My favorite part of NY cheesecake is the graham cracker crust. That and some strawberry topping and I am a very happy girl.
The recipe I'm sharing with you today came from my mom and I remember her making it when I was a little kid and knowing then, as young as I was, that she was making something special. My mom made copies of all of her recipes and gave them to me when I moved out on my own and her cheesecake recipe was one of the first I attempted on my own. It's easy and comes out delicious every time. I hope you enjoy it as much as I do.
Recipe, pictures and tips after the jump . . .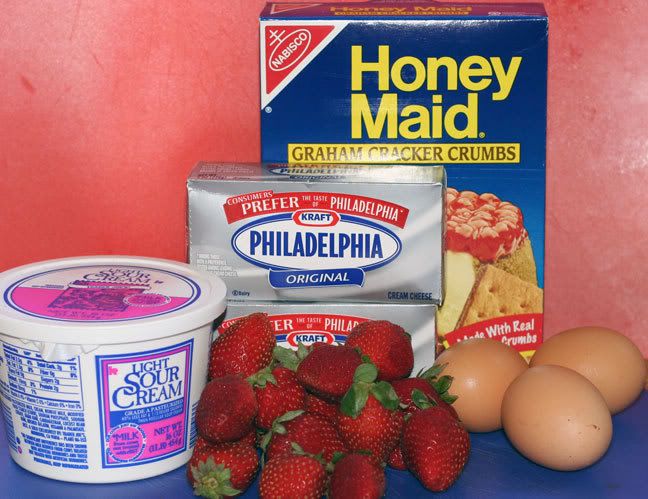 Ingredients
Graham Cracker Base
1 1/4 cup Honey Maid Graham Cracker Crumbs
1/4 cup of sugar
5 tbsp margerine, melted
Cheesecake Mixture
1/2 cup margarine or margarine alternative
1 lb cream cheese
16 oz sour cream
1 1/2 cups of sugar
3 eggs
3 tbsp. corn starch
1 lemon – juiced
1 tsp vanilla extract
1 tsp almond extract
1. Preheat oven at 350 degrees. Prepare graham cracker crumbs according to package instructions. Place graham cracker mixture in a springform pan. If you have the option to bake or chill the graham cracker mixture opt for baking. After baking the graham cracker crust, set it aside to cool.
2. In a separate bowl, mix cream and sour cream. Add margarine, vanilla extract, almond extract and lemon juice. Combine mixture.
3. Add 1 egg to cream cheese mixture and blend. Repeat twice.
4. Add corn starch and sugar to cream cheese and mix.
5. Pour cream cheese mixture over graham cracker crust in springform pan. Tap on the side of the pan gently to get air bubbles out.
6. Bake for an half-hour at 350 degrees. Lower temperature to 325 degrees and bake for another half-hour. After baking, turn oven off but leave in the oven for one hour.
7. Remove from oven, set aside and let the cheesecake cool. Chill before serving.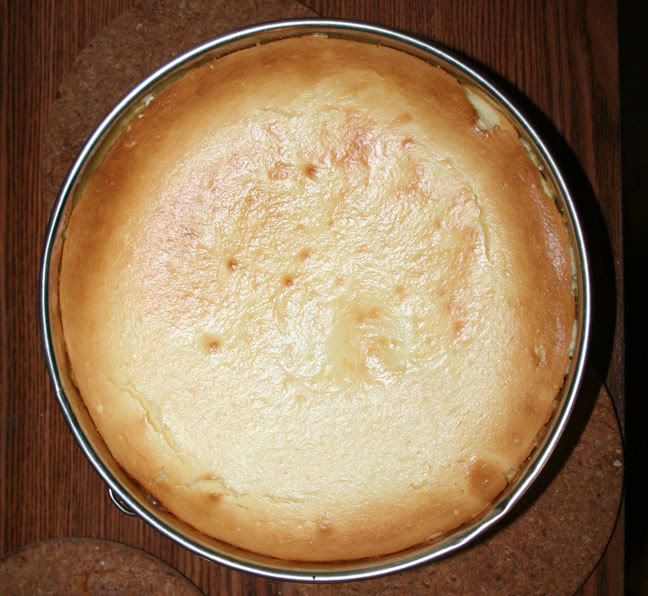 *Once cool, keep the cheesecake refrigerated.
Strawberry Topping
Ingredients
Strawberries – cleaned and sliced
Sugar
1. In a bowl, combine strawberries and sugar. Eyeball the amounts, you want the strawberries to have an even coating of sugar.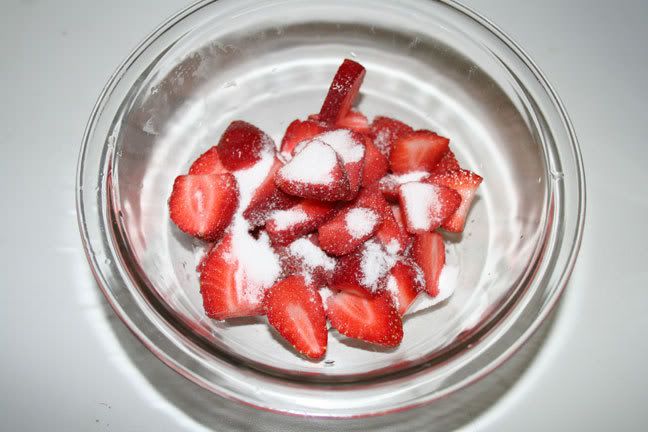 2. Cover the bowl with clear wrap and chill for a few hours or until the mixture gets syrupy.
3. Keep refrigerated. Use as a topping for your cheesecake.
*You could also add lemon juice or liqueur to add some extra flavor to the strawberry topping.