I love Coffee. I drink it everyday, at least twice a day. I usually make my "wake up" coffee in the morning and in the afternoon I usually head over to the coffee shop for a mid-afternoon pick-me-up. I take it Medium Light and Super Sweet (super sugary with a dash of heavy whipping cream). Sometimes I use brown sugar and add cinnamon. Yum. It's delicious, comforting, and a jolt when you need it to be. When the weather gets warmer, I switch to iced coffee. My favorite kind? Thai Iced Coffee: Sweet, creamy, and yummy.I used to drink Thai iced coffee at this coffee shop in Philly where I spent most of my time in college. I wasn't able to get work done at the library, but put me in a coffee shop with some music and coffee and I was good to go. Anyway, it was the only coffee spot that had Thai iced coffee and when I left college I had to find out how to make it for myself. It's still one of my favorite types of coffees and you don't need to go to a Thai restaurant to get it because it's super easy to make. Check out the recipe, pictures and tips after the jump.
Thai Iced Coffee
Ingredients
2 cups / 16oz of Coffee
2 cups / 16oz of Espresso
Sweetened condensed milk – to taste
1. Brew a pot of coffee and measure out 2 cups (16oz). Set aside.
2. Brew a pot of espresso and measure out 2 cups (16oz). Set aside.
3. Combine the coffee and espresso in a container or pitcher.
4. Add sweetened condensed milk to taste and stir.
5. Chill in the refrigerator. Serve on ice.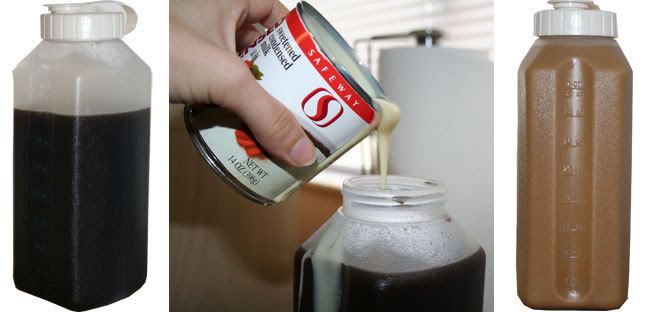 Tips
* You don't have to make 2 cups of each type of coffee. You can make more or less, as long as you use equal parts coffee and espresso.
* Add the sweetened condensed milk slowly and taste it as you go along – you can always add more but you can't take away.
* Make sure the coffee is completely chilled before serving it on ice. If it's warm, it will melt the ice too quickly and your Thai iced coffee will be watered down.
Enjoy!