I love salad. I try to eat it at least once a day, especially when I cook for myself. It's a side dish that goes well with anything and is light, healthy and refreshing – so long as you stay away from store-bought salad dressing! There are some days that I make complicated vinaigrettes, but most days, I go with a simple Italian olive oil & vinegar combo. And, in true Italian style, I eat my salad last. If you've never tried it this way, give it a shot. Have your salad after your main course of meat, fish or pasta – it's a really nice way to end a meal.
Recipe, tips and pics after the jump . . .
Ingredients
Red Leaf Lettuce – ripped in pieces
Red Pepper (or Yellow or Orange) – chopped
Grape Tomatoes – cut in thirds
Red Onion – diced
Cucumber (I like the Persian kind) – sliced
Mint – finely chopped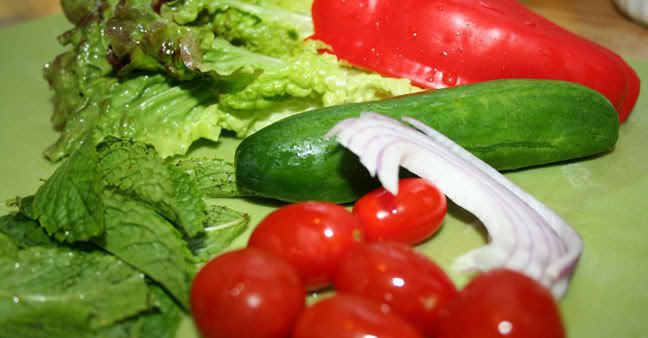 Dressing
1 Tbsp Extra Virgin Olive Oil
2 Tbsp Balsamic Vinegar OR Red Wine Vinegar OR Rice Wine Vinegar
Salt & Pepper to taste
1. Wash all of your ingredients and cut into bite size pieces.
2. Combine all ingredients in a bowl.
3. Drizzle extra virgin olive oil, vinegar, salt and pepper.
4. Combine and serve immediately.
Tips
*When you drizzle the olive oil and vinegar, try to do it on the side of the bowl not directly on the vegetables.
**Most recipes have a 2:1 ratio of oil to vinegar. I do the opposite – that's how I like it and I always get compliments on my dressing. If it's too acidic for you, add a bit more olive oil.
***Never put dressing on salad too far in advance – the lettuce will wilt. Try to do it as close to serving as possible.
****Feel free to add any veggies or cheese that you want. This is just a base recipe that you can build on according to your taste and what you're making with it.
*****Last but not least, when it comes to dressing, less is more. Most of the salads that you get in restaurants are drenched with dressing. There's just supposed to be a light coating of dressing on the salad. You can always add more, but you can't take away.
That's it! Buon Appetito!